RTV Oost 
– De 34-jarige regisseur en scriptschrijver Ernest Meholli is geboren in Kosovo maar verhuisde eind jaren 90 naar Oldenzaal. Dat is tevens de locatie van zijn meest recente speelfilm 'Gone Back'. Onder anderen Hanna Verboom en Karin Jessica Jansen spelen mee in dit psychologisch drama. De Twentse première was 9 november jongstleden in Filmhuis De Bond in Oldenzaal. Ernest Meholli is vanavond te gast bij En Dan Nog Even Dit.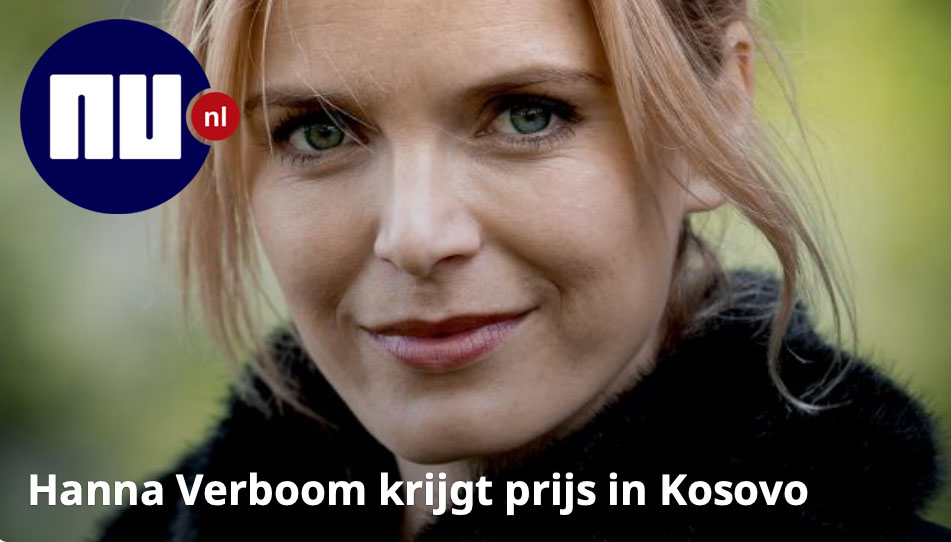 Gone Back van de jonge regisseur Ernest Meholli is een psychologisch drama over een deserteur die terugkeert naar huis in Kosovo. Hij verwacht dat hij zijn oude leven weer op kan pakken, maar hij komt er achter dat hij dood is verklaard en dat alles is veranderd.Hij probeert echter toch wanhopig om weer met zijn geliefde Anna (Hanna Verboom) in contact te komen.
LINK 
De Twentse premiere van GONE BACK een film van Ernest Meholli Cast: Astrit Alihajdaraj, Hanna Verboom, Blerim Destani, Karin Jessica Jansen, Refet Abazi, Yinli Titt.
– GONE BACK official selected at HOLLYWOOD NORTH FILM FESTIVAL 16 July.
– "GONE BACK" wins "The best feature Film" & "The best Actor" at IFFNY in New York
– 9 & 11 Nov. Twentse Premiere, DE BOND, Oldenzaal
– https://www.youtube.com/embed/PhkzHRTQAEk
– 04-09  November SCENECS International Debut Film Festival, Amersfoort
– 21 November will open the ALBANIAN FILM WEEK – FESTIVAL, New York, USA
– GONE BACK   wil be screened at Kino ABC in Prishtina Kosovo from 11 September at 18:00. till 17 September
– GONE BACK is a potential Kosovar candidate for Oscars
– http://kinoabc.info/en/on-september-11-2014-will-be-shown-premiere-of-movie-gone-back-in-digital-at-1800
– https://www.youtube.com/embed/PRMYuFpg4nY
– September, 2013  Audience Award at Prishtina Internationale Film Festival PRIFEST
– https://www.youtube.com/embed/D7sK12r-tNo
– September, 2013GONE BACK won the AUDIENCE AWARD at PriFest 2013 – Magical moments, BIG THANKS TO THE AUDIENCE – ENJOY– GONE BACK film by Ernest Meholli WINS The Audience Award at "Special Screening" on Pri Fest – Prishtina International Film Festival, Kosovo.
– May, 2013, Private Screening of Gone Back at EYE Film Cinema, Amsterdam
PHOTOS https://www.goneback-themovie.com/media.php?albumid=5880561960860162849
Eye International, GONE BACK an Ernest Meholli film
http://international.eyefilm.nl/gone-back.html
– Mar, 2013, EYE International wil promote GONE BACK
http://www.eyefilm.nl/eye-international
– Mar, 2013, Meeting with EYE International, Gone Back promotion.
– Mar, 2013, Interview with TOP CHANEL Albania, about Gone Back
– Mar, 2013, Making BluRay, Dvd, DCP Ernest Meholli, Edon Rizvanolli, Oliver Steffens
– Mar, 2013, Finishing the Officiële Trailer, Poster, Website van GONE BACK
– Feb, 2013, Promotion of Gone Back in Berlin, EFM on invitation of Kosova Cinematography Center.
Big thnx to Fatos Berisha, Vjosa Berisha & Arben Zharku whoe promoted our movie to different International Film Festivals and Distribution companys. 
– Jan  2013,   Design of TITLES & Subtitles with Edon Rizvanolli 1244 FILM COMPANY
– Jan  2013,   Grading with Danny Noordanus, Amsterdam.
– Jan  2013,   Audio mix check with Robil, Ernest and Matheo, Warnier Studio, Amsterdam,
– Dec, 2012,  Dutch Film Found will support Gone Back.

– Okt, 2012,   Music recordings, Matteo and Niels, The Baltic Symphony Orchestra (St. Petersburg)
 – Oktober  2012,  Matteo finished the music of Gone Back, 
– Oktober  2012,  Sound finishing, Robil and Niels, Amsterdam
– Okt 2012 First CINEMA check Danny & Ernest, UTOPOLIS Cinema, Almere
– Sep 2012   Ernest & Danny Starting the COLOR GRADING of GONE BACK at Team-Werk, Stuttgart 
– Sep 2012, TEAM-WERK the film company from Germany becomes a CO-producer of GONE BACK.
– Sep, 2012,  Visuele effecten DONE. THNX TO GENIUS WORK OF Matthijs Joor, Edon Rizvanolli, Melvin Kok
– Jul, 2012   EM Filmworks Ernest Meholli & Co-producer  ILLYRIA FILM Astrit Alihajdaraj presenting the movie to Kosovo Film Found,
  They decided to support GONE BACK. BIG THANX to KOSOVA FILM FOUND.
– Jun  2012, ILLYRIA Film becomes a Minority CO-producer to GONE BACK 
– Jul.  2012, Interview whith Mirejata Baraliu, Telekino of RTK Radio Television of Kosovo
– Apr  2012,  ADR recordings with, Blerim Destani Pastelle Music Studio, Amsterdam 
– Mar  2012, Sound, dialoge edit Robil in Budapest, Niels at Pastelle Music, Amsterdam
– Feb  2012, Music composing with Matteo Taheri & Ernest Meholli at Pastelle Music, Amsterdam.
– Feb, 2012, ADR dialogue recordings with Astrit Alihajdaraj & Karin Jessica Jansen